TAROT READINGS
$3.96 per min GST inc. Maybe Receive Offers via SMS.
CREDIT/DEBIT CARD READINGS
Demand for Tarot Reading online options
Tarot reading is an engaging activity where people are shown a deck of cards and with the help of the chosen card, person's future can be predicted. It is a popular psychic activity which is believed and followed by various people around the world no matter which country you belong to. The power of Tarot cards is considered to be so powerful that it can tell person's past and future lives. There is no scientific accuracy about tarot card reading and this activity is quite engaging for most people. In this activity, the psychic person is able to interpret the future based on the present and past.
How the Tarot Card readings became popular in Australia
Tarot readings in Australia are a great chance to the psychic reader to choose any card from the set of cards. The Tarot Reader is a specialized individual who gets the chance to place the tarot cards and provide an estimated idea of the person's future. This is simply a hobby or a game but many people believe that Tart card can be played even using online systems and computerized software's. So, if you are looking to play tarot cards then you have various options. Using the tarot card ready, you can easily handle numerous idea about the game. Online game options are there which gives a great choice for the individual to get the idea about the cards. It is loosely based on the real concept of Tarot card readings. Most of the online portals and applications, one can easily establish personalized communication and develop a good lot of knowledge about tarot card reading. The online software is based on a computerized set of answers whenever a specific question is asked to the person and it is also not a convincing answer. The psychic reader will interpret the cards one by one and tells the future of an individual. If you have a good knowledge and communication about card reading then you can even develop your own concept of a card reading. It can be a convincing and amazing option. Even there are concepts of card reading applications in which one can download an application that allows Tarot card reading by Phone or SMS and allows the reader to give readings to you via the phone call.
Tarot Card reading application
Card reading is an ability of an individual to read the psychology about a person in front of you. People who are engaged in the psychic reading should be advised to always practice this activity very carefully with complete focus and ability to concentrate. People who are following the card reading must not follow the cards blindly and also consider their own discretion before following any of the advice, recommendations and suggestions given by the reader. One should not feel disappointed and thwarted by what you believe and what will happen if the card predicts. Our Psychic Central readers have skilled Telephone Tarot Card readers who can give you an accurate reading via phone or SMS.
Take the time to choose and contact one of our skilled Tarot readers available from the menu. Contact them now for a valuable clairvoyant reading on 1300 317 600 $3.96 per min GST Inc (Available for Australian callers only). Our service may be higher from mob/pay phones. Or for credit card billing, call (02)91995370 to see what your future holds.
How it Works
1. Choose From our Live Readers
2. Call 1300317600 or for International Callers Call (+612)91995370
3. Follow the voice prompts on the voice menu using the key pad on your hand set.
4. Enter your valid credit card details in (All major credit cards accepted).
5. Choose how many pre-paid minutes you wish to purchase from the menu.
6. Once approved, Write down and record your private pin code so you can access and use your left over credits for your next call or at a time that suits.
7. Either choose the available psychic reader you wish to speak with (By entering their pin personal number) or let fate decide and have the next available reader provide you with a reading.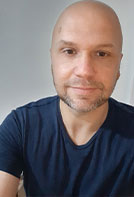 James, Pin: 2334
Psychic,Tarot
James is an experienced tarot card reader. As an empath and being highly intuitive, he's able to pick up on your energy. Caring and considered, he will offer clarity to your situation and help to guide you forward on your life's journey.
Call costs $3.96 per minute GST inc. May receive offers via SMS.
Shirley, Pin: 2699
Psychic,Medium,Tarot,Healer,Spiritual Counsellor
Shirley is a gifted Psychic and Tarot reader and she has been reading professionally for the last ten years. Shirley specialises in emotional issues and relationships between people. Shirley connects with Spirit and Angelic guides as well as her own guide Eli.
Call costs $3.96 per minute GST inc. May receive offers via SMS.
Psychic Central Reader Juliana (Pin 4006)
Psychic Central Reader Jennifer (Pin 4242)
Psychic Central Reader Heather (Pin 4457)
Psychic Central Reader Diane (Pin - 4283)
Psychic Central Reader Grace (Pin - 4259)
Psychic Central Reader Caroline (Pin - 4362)